Support a humane community with AWL!
By making a symbolic gift through one of the giving categories below, you are directly impacting the lives of animals in Virginia's Northern Neck.
Your generous contribution to the Animal Welfare League of the Northern Neck (AWL) supports vital programs, from providing food to sponsoring live changing spay/neuter procedures. Each category represents a critical aspect of our mission to create a more humane community.
Thank you for being a crucial part of this compassionate cause!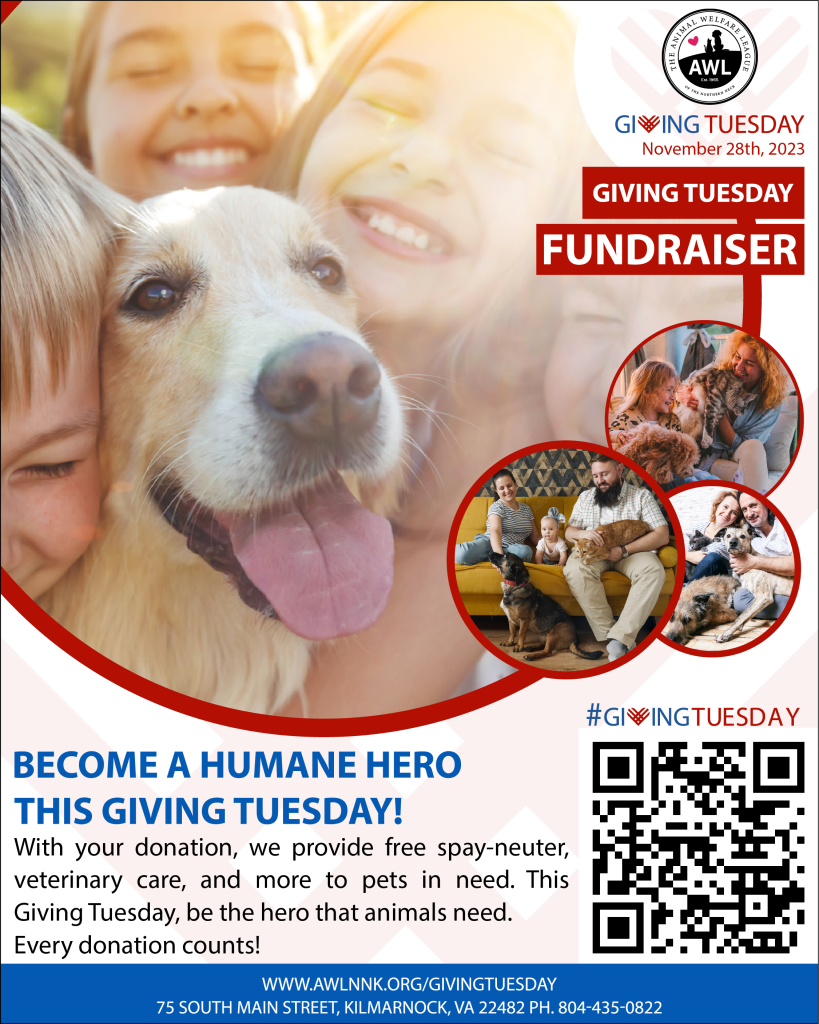 giving Tuesday Donation Categories
Compassionate Contributor ($25)
HELP PROVIDE FOOD FOR A PET IN NEED, ENSURING THEY ARE WELL-FED AND HEALTHY.
SPONSOR THE SPAY/NEUTER OF A RESCUED DOG OR CAT, PREVENTING UNWANTED LITTERS AND PROMOTING RESPONSIBLE PET OWNERSHIP.
HELP COVER EMERGENCY VETERINARY CARE FOR AN INJURED OR ILL PET, GIVING THEM A CHANCE AT A HEALTHY, HAPPY LIFE.
SUPPORT OUR FREE SPAY/NEUTER PROGRAM, HELPING CONTROL PET OVERPOPULATION AND ENSURING A HUMANE COMMUNITY FOR ALL ANIMALS.
Community Champion ($500)
CONTRIBUTE TO OUR EDUCATION AND
DISASTER RELIEF INITIATIVES, CREATING AWARENESS AND PREPAREDNESS FOR A SAFER, MORE COMPASSIONATE COMMUNITY.
Paw-sitive Partner ($1000)
SPONSOR THE TRANSPORT AND ADOPTION OF RESCUE ANIMALS, GIVING THEM A SECOND CHANCE AT A LOVING HOME.